\ ˈklenz \ nutrient-dense, liquid cleanse; cleansing; cleanses
noun
1) a process or period of time during which the body rids itself of substances regarded as toxic or unhealthy, by consuming fresh, raw, nutrient-dense cold-pressed juice & water
A busy life can leave us feeling stressed, overworked and weighted down mentally, physically and spiritually. Pollution, convenient foods, toxic environments and alcohol are all things that can also result in us feeling sluggish and unfocused. Fasting, cleansing, and detoxing is essential in maintaining wellness and bringing you back to center.
When cleansing you experience de-bloating, your system alkalizing and the elimination of toxins and pollutants that may be gathering in the gut and bloodstream. The goal is to let the gut relax from unhealthy, daily habits that can cause bigger issues and allow the body to do what it naturally does best: DETOX!
When your body is working efficiently, you can expect more energy and focus.
Optimal wellness requires detoxing, vitamins and minerals for your body to help you stay on top of life and functioning at your highest level – physically, mentally and emotionally.
1) Whether you're about to undertake a one, three, five or seven day cleanse, the more prepared you are, the more successful your cleanse will be.
2) Focus on your intentions. Think about what you hope to achieve. Do you want a reset, instill new healthy habits, or incorporate more fruits and veggies in your diet? Whatever a successful cleanse looks like to you, writing it down can help set your intentions.
3) We recommend clearing your schedule from big meetings, events or stressful work. Your body will be working overtime to heal, repair and restore! This is the time to listen to your body. However, if you feel like a walk, stretch or light workout, go for it!
4) Go deeper. Eliminate processed sugars, dairy, caffeine, alcohol, nicotine and processed foods two days before your start date. This will help ease cleansing symptoms of fogginess and headaches. Focus on a plant-centric diet full of nutrient-dense foods and plenty of water. Reach for veggies, fruit, healthy fats, whole grains, nuts, seeds, legumes. Adjusting your diet before the cleanse can make it easier for you both mentally and physically.
GOOD TO GO

LEAVE IT LIST

Fruits, Vegetables and Herbs

Processed and fried foods (cookies, cake, packaged meals, drive-thru)

Plant-based milks, cheeses & creams

Refined Sugar

Gluten-free whole grains, brown rice, quinoa, buckwheat, millet

Refined (White flours, Pastas, white bread)

Beans and lentils


Caffeine

Natural Sweeteners(maple syrup, honey, dates)

Red Meat, Dairy, Eggs,
high-mercury fish

Healthy fats, avocado, olive oil, coconut, nuts and seeds

Alcohol, tobacco
1) Plan out your juices. It's important for you to finish each juice in the correct order. Set an alarm every two hours as you will need the nutrients from each – they all play into the end results.
2) Hydration is key – especially in cleansing. Drink water throughout each day. Teas and tonics are an excellent way to boost a cleanse because they hydrate and alkalize the gut which enables you to absorb more nutrients. Every juice you drink will help eliminate bloating, toxic fats, chemicals and toxins that have been building in your system. Water supports further detoxification.
3) Rest and reset! Be sure to get lots of rest as your body resets water retention, nutrient levels, blood sugar, alkalinity and more! Have a scarf and warm clothes ready, as you may experience temperature fluctuation during your cleanse. Take a bath, dry brush, meditate, enjoy a sauna session and allow yourself to be.
4) Feeling hungry? Adding some chia seeds to your juices can help. Sometimes we can miss the act of chewing, which can also make us feel hungry. Chia seeds contain protein, fats and fiber. Headaches, light-headedness or stomach cramps can occur from caffeine, alcohol and sugar withdrawals; the body working hard to flush out toxins and your gut pH resetting . If you are hungry at any point, be sure to eat a plant-based. snack like nuts, olives, salad, fruits or one of our protein smoothers.
CONGRATULATIONS! You should be so proud of yourself for giving your body some well-deserved love. Consider this the start of a new chapter for your new lifestyle.
1) TAKE IT EASY. It's important to move slowly after a cleanse. Be very aware of your diet and how it feels when you start incorporating more foods. This is a great time to make the switch to a plant-based diet and continue to feel amazing! Follow us on social media for recipes, ingredients and tips on how delicious & satisfying a plant-based lifestyle can be!
2) DRINK LOTS OF WATER! And Give yourself a few days before jumping back into strenuous activities, such as: high intensity interval training, Crossfit, or any other types of intense cardio. Your body is still detoxing & healing.
3) Reflect on your intentions. Let go of old habits holding you back from achieving stability in your everyday lifestyle. Keep your intentions close to your heart and prioritize your health and happiness.
PLEASE NOTE THAT CLEANSES NEED TO BE PICKed UP WITHIN 24 HRS OF YOUR START DATE FOR THE FRESHEST PRODUCT.
IN-STORE Pickup AND DELIVERY AVAILABLE DAILY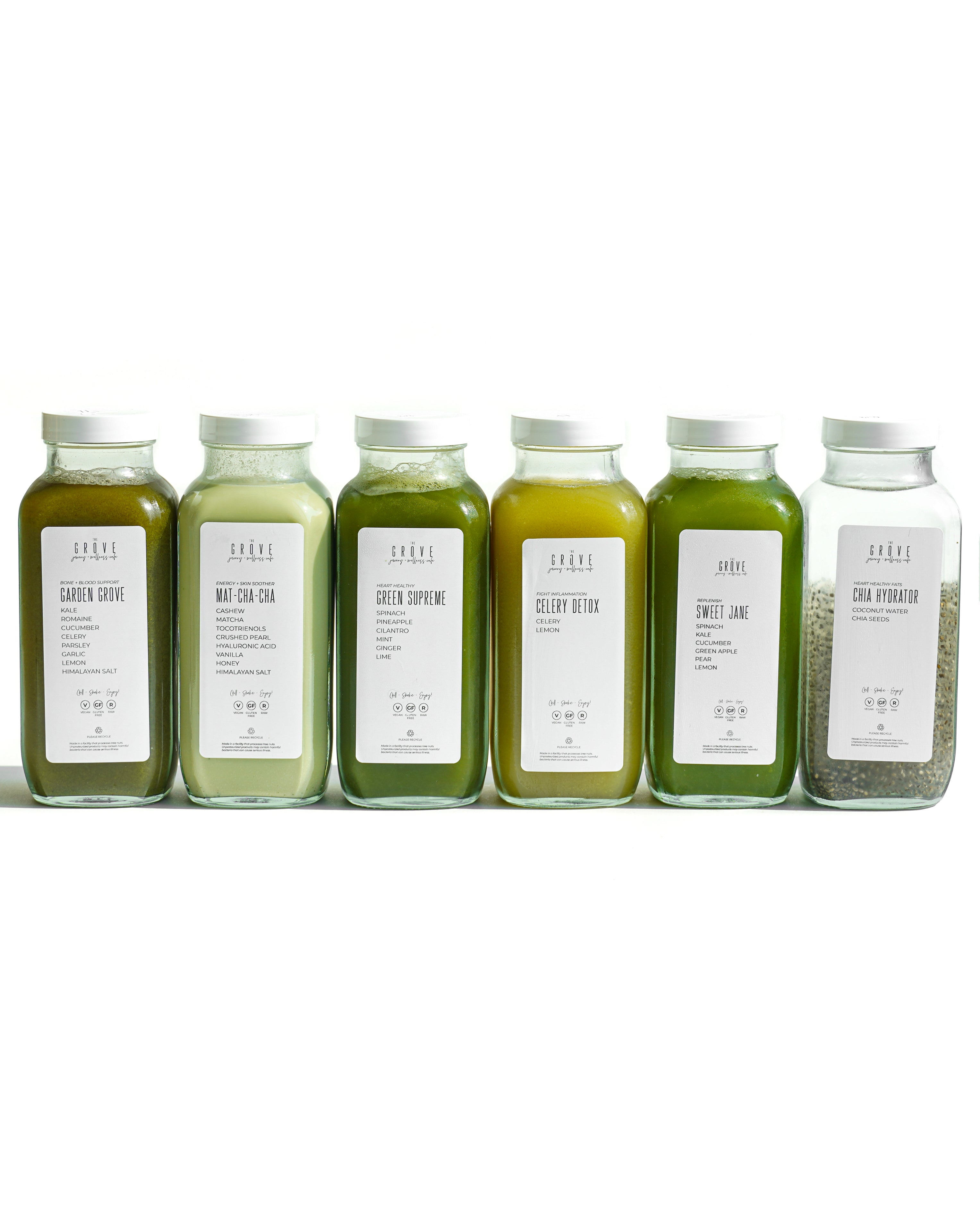 Green Routine Cleanse
The Green Routine Cleanse is best for weight-loss, bloating, indigestion, constipation and overall gut health! All these leafy greens normalize the pH of the stomach so your body can break down foods more easily and absorb and distribute nutrients properly! This serious reboot will help everything from your digestion system to the color of your skin!
SHOP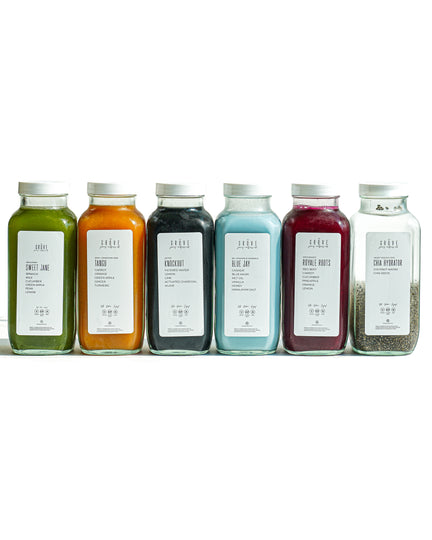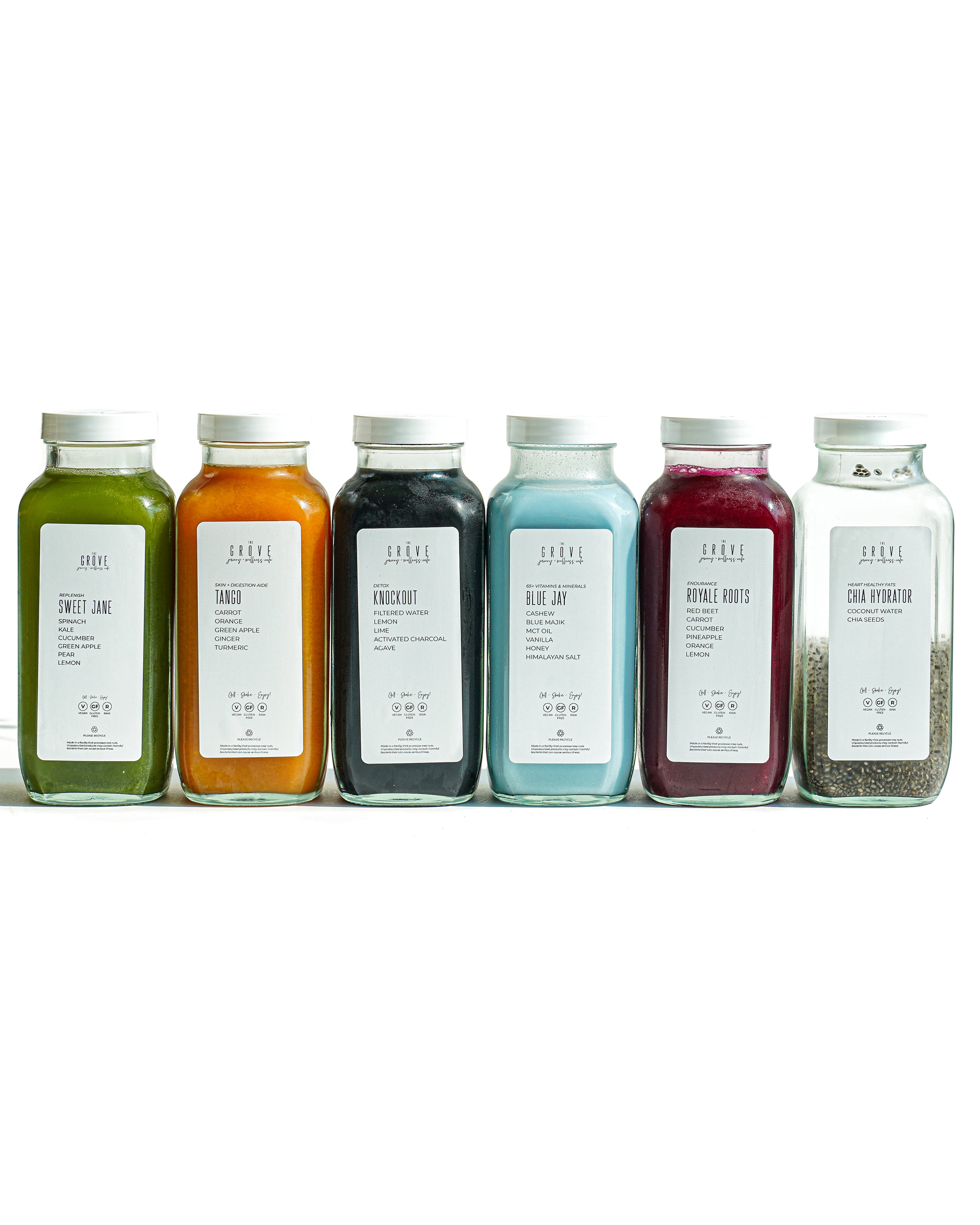 Detox Cleanse
The Detox Cleanse is best for knocking the toxins and stressors we endure out of the system! From pollution to processed foods, we absorb harmful chemicals everyday. Not to mention, our own bodies produce stress hormones – like cortisol – which can interfere with immune function, blood pressure, cholesterol, heart disease and weight gain.
SHOP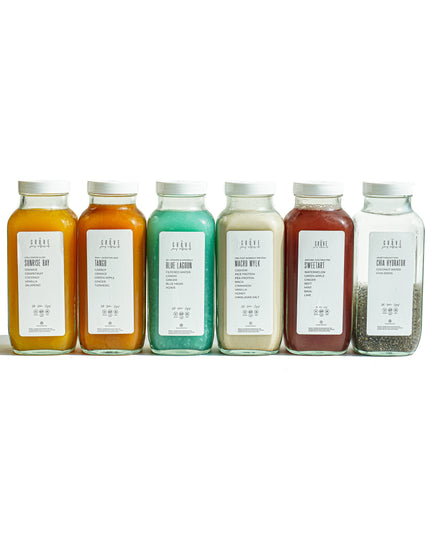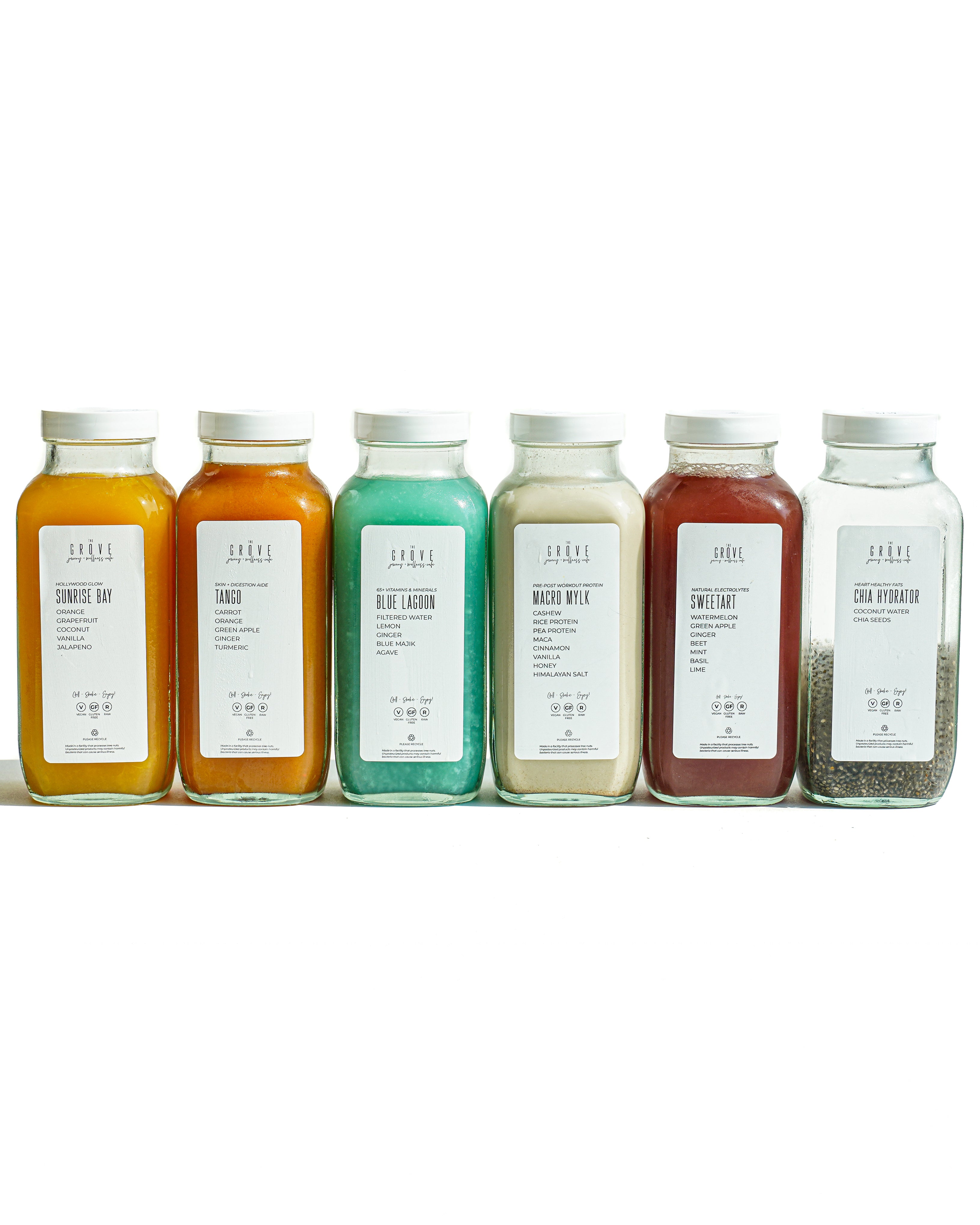 Replenish Cleanse
The Replenish Cleanse is best for refueling on essential vitamins, minerals and antioxidants for a top performing mind, body and spirit. This promotes brightening and beautifying through a Vitamin C, nutrient and hydration blast supporting skin tissue and the immune system! You'll be GLOWING from the inside out feeling healthy, strong and beautiful!
SHOP
The Wellness Warrior Cleanse (the 3, 5 and 7 day cleanses) include ALL THREE Cleanses ~ The Green Routine, The Detox & The Replenish for a superhero status! If you are looking to reset habits and conquer cravings to feel more energized and find more clarity to feel great every day, this is a great place to start!