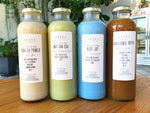 WE MAKE OUR SIGNATURE GROVE MILK BLEND IN HOUSE USING ALMONDS, STEEL-CUT OATS, DATES FOR A BIT OF SWEETNESS, ALKALINE WATER AND A SMIDGE OF PINK SALT! THIS IS WHAT WE USE IN ALL OUR BOTTLED PRODUCTS AS WELL AS ALL OUR CAFE ITEMS ~ LATTES, SMOOTHIES & SNACKS! OUR CREAMY BLEND IS NOT ONLY FULL OF FLAVOR BUT CONTAINS PROTEIN, FIBER, CALCIUM, AND OMEGA-3 FATTY ACIDS! THE ALKALINE WATER BALANCES THE PH OF THE GUT HELPING FOODS DIGEST EASIER HELPING YOU ABSORB MORE NUTRIENTS AND USE THEM MORE EFFICIENTLY! AS ALWAYS OUR PRODUCTS ARE MADE-DAILY, RAW, AND PLANT-BASED &...
---
#Holidays got you stressed, overwhelmed, walking that fine line...chill baby, you got this! We listened to your request and we now have #cbd#oil in 250mg and 500mg! We believe in the power of #cbdoil but don't take our word for it..more and more research shows the incredible brain and nerve #benefit from this #natural #stress #pain #anxiety #insomnia reducer, not to mention its incredible anti-inflammatory, anti-seizure properties, reducing #alzheimers and #dementia symptoms and #brain cell decline! We are so happy to have such a powerful product available for you and the stories you share with us and our personal selves and family, seeing how it has improved lives and the lives of our loved ones is truly moving!
---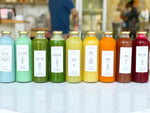 THE BENEFITS OF CLEANSING ARE SECOND TO NONE, NEUTRALIZING YOUR GUT, ELIMINATING BLOATING AND FLATTENING THE STOMACH, RIDDING YOUR BODY OF TOXINS AND POLLUTANTS, ALKALIZE YOUR SYSTEM TO DIGEST AND ABSORB NUTRIENTS MORE EFFICIENTLY, BOOSTS OXYGEN IN THE BLOOD SYSTEM AND BLASTS VITAMINS, MINERALS AND KEY NUTRIENTS INTO YOUR BODY AND BRAIN HELPING YOU FUNCTION PHYSICALLY, MENTALLY AND EMOTIONALLY AT YOUR HIGHEST LEVEL! WE GET A LOT OF QUESTIONS ABOUT CLEANSES; ~WHAT KIND OF CLEANSE SHOULD I DO?~WHAT SIZE CLEANSE SHOULD I GET?~WHAT SHOULD I EAT?~WHAT SHOULD I AVOID?~HOW MUCH WATER SHOULD I DRINK?~CAN I EXERCISE? ~HOW WILL I FEEL?~WHAT...