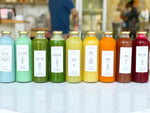 THE BENEFITS OF CLEANSING ARE SECOND TO NONE, NEUTRALIZING YOUR GUT, ELIMINATING BLOATING AND FLATTENING THE STOMACH, RIDDING YOUR BODY OF TOXINS AND POLLUTANTS, ALKALIZE YOUR SYSTEM TO DIGEST AND ABSORB NUTRIENTS MORE EFFICIENTLY, BOOSTS OXYGEN IN THE BLOOD SYSTEM AND BLASTS VITAMINS, MINERALS AND KEY NUTRIENTS INTO YOUR BODY AND BRAIN HELPING YOU FUNCTION PHYSICALLY, MENTALLY AND EMOTIONALLY AT YOUR HIGHEST LEVEL!
WE GET A LOT OF QUESTIONS ABOUT CLEANSES;
~WHAT KIND OF CLEANSE SHOULD I DO?
~WHAT SIZE CLEANSE SHOULD I GET?
~WHAT SHOULD I EAT?
~WHAT SHOULD I AVOID?
~HOW MUCH WATER SHOULD I DRINK?
~CAN I EXERCISE?
~HOW WILL I FEEL?
~WHAT RESULTS WILL I HAVE?
HERE IS SOME INFORMATION TO HELP YOU BREAKDOWN WHAT IS RIGHT FOR YOU!
~WHAT KIND OF CLEANSE SHOULD I DO?
FIRST YOU NEED TO DECIDE HOW MANY DAYS YOU WOULD LIKE TO DO, FROM 1 DAY TO 30 DAYS WE HAVE A PROGRAM SET UP FOR YOU! WE HAVE CUSTOMIZED OUR MOST POPULAR CLEANSES 3-DAY, 5-DAY AND 7-DAY TO ACHIEVE MAXIMUM RESULTS! WE ALSO TAILOR 10-DAY AND 30-DAY CLEANSE PROGRAMS, FOR MORE DETAILS EMAIL US AT FRESH@THEGROVEJUICERY.COM! WE HAVE 3 CUSTOM DESIGNED CLEANSES, CREATED SPECIFICALLY WITH YOU IN MIND; LEARN MORE ABOUT THE GREEN ROUTINE, DETOX AND REPLENISH CLEANSE!

~WHAT SHOULD I EAT?
-YOU CAN APPROACH A CLEANSE IN A FEW DIFFERENT WAYS; FIRST IS PURELY LIQUID WHICH CONSISTS OF JUICES, PLANT-BASED MILKS, TEAS, OILS, TONICS AND WATER. THE SECOND IS A LIGHT PLANT-BASED DIET, WHICH INCLUDES FRUITS, VEGETABLES NUTS, SEEDS, AND GRAINS. A PLANT-BASE DIET IS VOID OF DAIRY, EGG AND MEAT.

~WHAT SHOULD I AVOID?
-THINGS TO AVOID: DAIRY, EGG, MEAT, REFINED SUGAR, CAFFEINE, ALCOHOL, DRUGS, FRIED FOOD, PROCESSED FOODS, ARTIFICIAL OR CHEMICAL ADDITIVES AND PRESERVATIVES!

~HOW MUCH WATER SHOULD I DRINK?
-HYDRATION IS KEY TO CLEANSING, YOU WILL NEED TO CONTINUALLY DRINK WATER THROUGHOUT EACH DAY. OUR TEAS AND TONICS ARE AN EXCELLENT WAY TO BOOST A CLEANSE WITH HYDRATION AND ALKALIZING THE GUT ENABLING YOU TO ABSORB MORE NUTRIENTS MORE EFFICIENTLY.

~CAN I EXERCISE?
-DURING A CLEANSE YOUR BODY IS WORKING OVERTIME HEALING, REPAIRING AND RESTORING! THE BEST TIME TO DO A CLEANSE IS WHEN YOU HAVE THE TIME TO TAKE IT EASY, HOWEVER IF YOU FEEL LIKE A WALK, STRETCH OR LIGHT WORKOUT GO FOR IT!  IT IS A TIME TO LISTEN TO WHAT YOUR BODY NEEDS AND HOW IT FEELS! JUST MAKE SURE YOU ARE NOT OVERDOING DURING A CLEANSE.

~HOW WILL I FEEL?
-BE SURE TO GET LOTS OF WATER AND REST AS YOUR BODY RESETS WATER RETENTION, NUTRIENT LEVELS, BLOOD SUGAR, ALKALINITY AND MORE. HAVE LAYERS OR A SCARF WITH YOU AS YOUR BODY TEMPERATURE CAN FLUCTUATE DURING THESE CHANGES. ALSO BE SURE TO GET LOTS OF REST AS YOUR BODY IS WORKING HARD TO HEAL, RECOVER AND RESET ITSELF!
~WHAT RESULTS WILL I HAVE?
AFTER COMPLETING THE PROCESS YOU WILL FEEL LIGHTER WITH A NEUTRALIZED GUT AND FLAT STOMACH SANS ANY BLOATING! YOU WILL FEEL RESTED AND ENERGIZED WITH A CLEAR, FOCUSED MIND! ALSO YOU SHOULD NOTICE BRIGHTER SKIN, EYES, AND HEALTHY, SHINY HAIR AND NAILS!